Key Stage 1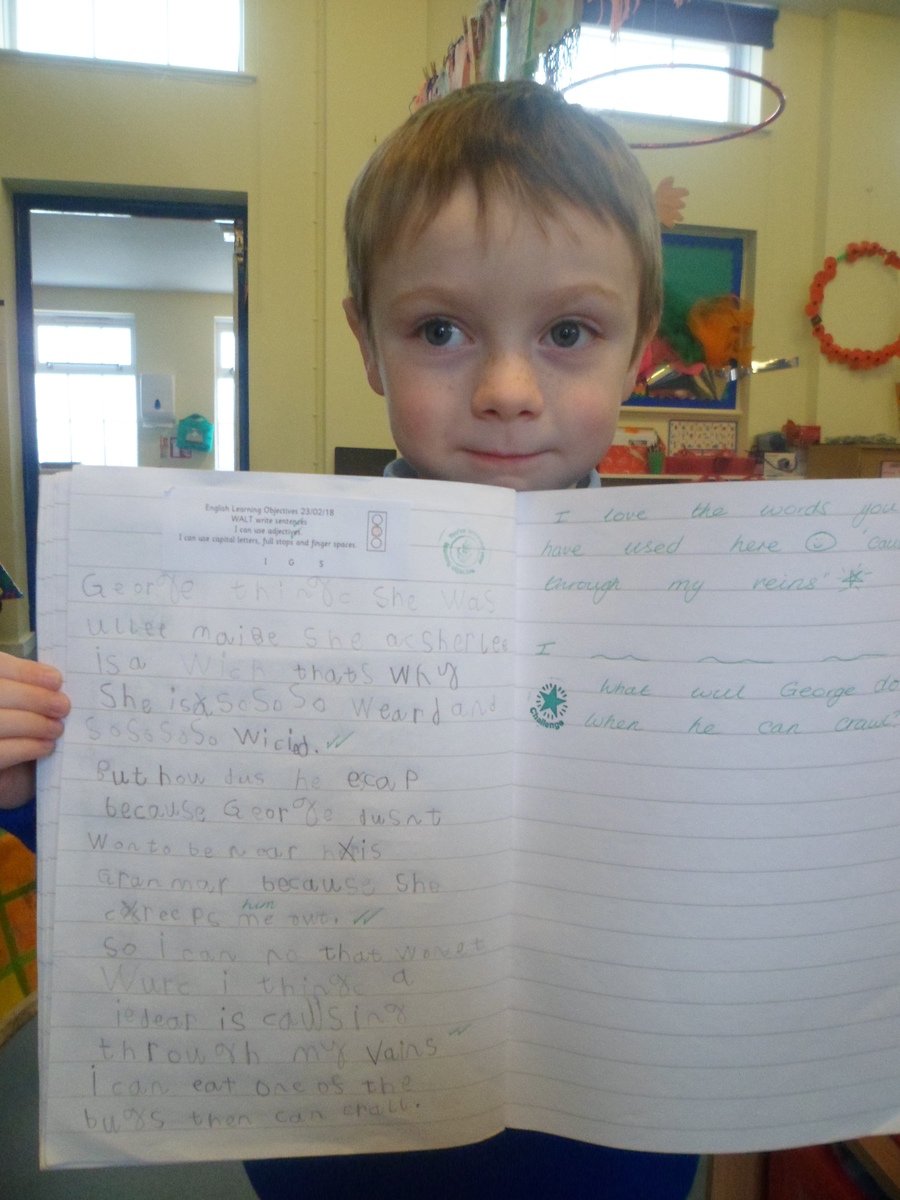 The curriculum that we plan encompasses the National Curriculum framework, which all children follow from Year 1.
The core subjects are English, Maths, Science and R.E. The foundation subjects of Art and Design, Computing, Design and Technology, History, Geography, Music and P.E. all form part of our curriculum. However, because children do not see the boundaries between one form of knowledge and another, we aim to use a themed, cross- curricular approach. Certain aspects of some subjects are taught specifically, particularly Literacy, Maths and Computing.
English
Language development is central to a child's overall progress. We build on their skills in the four areas of speaking, listening, reading and writing. In order to understand and respond to others, children need to develop good habits of listening and concentration and need to be able to express themselves clearly. We aim to give children the foundations to enable them to become fluent readers and writers. We follow the 'Letters and Sounds' programme for phonics and use a wide range of materials including 'Jolly Phonics' to allow our children grasp the way our language is formulated. We have a colour banded reading scheme with a range of fiction and non-fiction books.The children will bring home work to complete with you including books, handwriting and phonic activities.
Mathematics
We teach Maths at Warren Mead Infants using a Maths Mastery approach. We aim to develop the children's fluency of maths facts, whilst also giving them the opportunity to reason and problem solve in every lesson. We feel that this gives the children the knowledge, skills and understanding to use Maths in everyday life. The children enjoy being 'brave bears' within their learning and working through their green, red and black challenges. We develop our resilience by being 'persevering penguins' when we find something hard, and celebrating our mistakes so that we can learn from them and try again. We want the children to be enthusiastic about their Maths and we encourage them to work practically, explore and discuss what they are learning. Our children are encouraged to use accurate mathematical language when explaining so that they can verbalise their ideas confidently. We are often 'team tigers' within our lessons as we enjoy working together collaboratively on investigations. We love our Maths at Warren Mead Infants!
Science
Science is essentially about observing, investigating and making sense of the world. Young children are scientists by nature as they try things out and think up explanations for things in their surroundings. In school, we take advantage of this natural curiosity using first hand experience to build up scientific ideas.
Children develop the basic scientific skills - observing, questioning, hypothesising, predicting, planning and carrying out investigations whilst studying topics on the natural world, materials and physical processes.
Computing including On line Safety
Technology is essential to everyday life and 'computational thinking' is a vital skill when it comes to participating in an increasingly digital world. Our Computing curriculum has been developed to equip our children with the skills, knowledge and understanding of computing that they will need throughout the rest of their lives.
At WMI, Computing, is taught both as a distinct subject, in its own right and as a tool to be used as appropriate throughout the curriculum to support and enrich the children's learning. All children have lessons which also include Online safety training. In addition to these lessons they also have opportunities to practise their Computing skills on our LearnPad tablet computers and well as desktop/laptop computers.
Children use search engines to research information about their topics. They learn how to input digital images into their work and to use tools within various art packages and publishing programs independently. The children are also taught how to save, retrieve and edit their work. In KS1, they also learn how to control a programmable robot by carrying out a sequence of instructions. In line with the new curriculum, children are taught coding through writing and testing simple programs and use logical reasoning to predict the behaviour of simple programs.
A variety of other equipment is used across the curriculum, for example cameras, visualises Beebot robots, metal detectors, sound recorders.
Religious Education
We use the agreed Surrey syllabus for R.E. It is hoped that children will learn about the love of God through loving and caring for others. The children are encouraged to understand that they are part of the wider community and through learning about other religious beliefs and traditions, learn respect for them. Assembly forms an important part of our school life where the whole school can meet together for a time of reflection and celebration. However if you wish for your child to be withdrawn alternative provision will be arranged.
Geography
Geography is a time for children to develop their knowledge of people and places and learn about a range of different localities. Children will explore the world around them through outdoor learning, school trips, artefacts, maps and photos and learn about the skills needed to ask geographical questions. Children will learn to describe places through studying Banstead, London, other places in the UK and the rest of the World. They will study the human and physical features of geographical locations and learn to name the continents and oceans of the World. It's also a time when children learn about their potential impact on the environment. They then use the skills they have developed in literacy, numeracy and ICT to report and record their findings.
In the Early Years Foundation Stage, children learn about similarities and differences in relation to places, objects and materials. They are encouraged to discuss their own immediate environment and describe how environments may vary from one to another.
History
History is more than learning facts about the past but an opportunity to develop skills of enquiry and questioning in an exciting way.
History is taught through our cross curricular topics with role play, class visits, workshops and the use of artefacts enabling the children to use a variety of sources of information to find clues and evidence and take part in discussions with their peers. They learn to compare and contrast people and events, to examine how and why things have changed, to learn about historical characters and expand their research skills. Children are taught how to investigate and record their findings in interesting and creative ways including writing, art, drama and ICT.
In the Early Years Foundation Stage, children learn about past and present events in their own lives and those of family members.
Art and Design
Art is an essential element in the development of young children and is planned to engage and inspire our pupils, equipping them with the knowledge and skills to experiment, invent and create their own works of art. The arts identify a range of cross curricular links between areas of learning which deepens children's understanding by providing opportunities to reinforce and enhance learning. We often use Art and Design as a starting point in developing pupils' interest in a topic and the children's art work is displayed around the school to acknowledge its value whilst creating an inspiring and vibrant learning environment.
At Warren Mead Infants we aim to teach and develop specific skills in drawing, painting, print making, textiles and three dimensional work. Children will learn about the work of a range of artists, craft makers and designers,
In Early Years the children's creativity is extended by the provision of support for their curiosity, exploration and play. Children are provided with the opportunities to explore and share their thoughts, ideas and feelings, through a variety of art, music, movement, dance, role play and through weekly Inspire, Create and Share sessions.
Design and Technology
Pupils work in a range of relevant contexts in which they are taught to design purposeful, functional and appealing products for themselves and others based on design criteria. Children are given the opportunity to work on textile and construction projects as well as food technology. Emphasis is placed on teaching specific practical skills, which are then applied to problem solving. These skills range from learning how to join and attach model making materials in Early Years (using tape or string) to building a simple chassis for a moving vehicle in Key Stage 1 using wood and saws. Children are also taught to select and use a range of tools and equipment safely.
P.E and Games
'A high-quality physical education curriculum aims to ensure that all pupils develop competence to excel in a broad range of physical activities, are physically active for sustained periods of time, engage in competitive sports and activities, and lead healthy, active lives.'
Physical Education is an essential part of a child's development. It can cultivate confidence and self-esteem as well as physical skills and knowledge. It educates children in the effects of engaging in regular physical activity and how this can improve their health and well-being. Team activities encourage children to be 'Team Tigers' and promotes fair play and respect.
At our school, PE is delivered through six different areas, Multi-skills, Games, Gymnastics, Dance, Outdoor and Adventurous Activities and Athletics. We provide a positive, inclusive environment where all children feel safe and supported and able to explore and develop their physical literacy. All PE activity develops the children's understanding of how their bodies work and the importance of a healthy lifestyle which includes regular exercise. Children develop fundamental movement skills and become increasingly competent and confident. Access to a broad range of opportunities extends their agility, balance and coordination, individually and with others. They engage in competitive (both against self and against others) and co-operative physical activities.
The PE and Sport Premium has allowed us to make additional and sustainable improvements to the quality of PE and sport we offer. For example, we have purchased new equipment, provided teacher training in areas such as Dance and Games, developed our provision of outdoor learning and offered more inter school competitive opportunities.
Music
Music is an integral and fun part of every day school life with musical activities, singing assemblies, special celebrations as well as discrete music lessons. Children are given a love of music and a wealth of musical experiences through, listening, singing, musical games composing and performing. All children are taught to use musical vocabulary and encouraged to develop their skills by performing to their peers in lessons and performance assemblies.
Music is taught using a wide range of material and technology including resources from the online music scheme 'Charanga'
In Year 2 children are given the opportunity to join our choir and perform at a music festival with a number of other local schools.
Assessment
Assessments of children are made by all teachers on a regular basis in order to ensure that the learning objectives planned are meeting their needs. In addition, formal individual assessments are made each term in English, Maths and Science. Targets are set for each child, which are discussed with you at parents' consultation evenings.
During their 1st year, the children will be assessed by their teacher to monitor their progress in achieving the Early Learning Goals. The complete assessment, the "Early Years Profile" will be discussed with you in the Summer Term. At the end of Year 2 all children complete a range of assessments, which incorporate a mixture of teacher assessment and Standard Assessment Tests. At the end of each year a Record of Achievement Report is written for each child.
Extra Curricular Activities
There is a variety of clubs organised either at lunchtime or after school, for example French, Recorders, Musical Theatre, Football and Tennis. Each club will run for between one and three terms. You will be informed of which clubs will be offered in the coming term and permission is required before children may participate in any after school activity.
Educational Visits/Governors' Policy on Charging for School Activities
Most of our visits take place in the immediate environment, but sometimes we like to take the children further a field to provide first hand experience for topic work.
The 1988 Education Reform Act confirms the right of schools to invite voluntary contributions in support of activities organised. There is no obligation for parents to contribute and no child is ever excluded for financial reasons. However, the arrangement of special activities is only possible if we receive sufficient contributions.